Here's a new page, just for you! 
Every Monday, students will recieve a new  list of sight words.  Please help them to study their words.  On Fridays, we will have a weekly sight word test.
Sight words for the week of September 6th - 10th:                            
                 like, cat, to, and, & dog              
On Mondays, write new sight words on index cards to study each day.  
On Tuesdays through Thursdays, select one of the activities on the choice board to complete each day.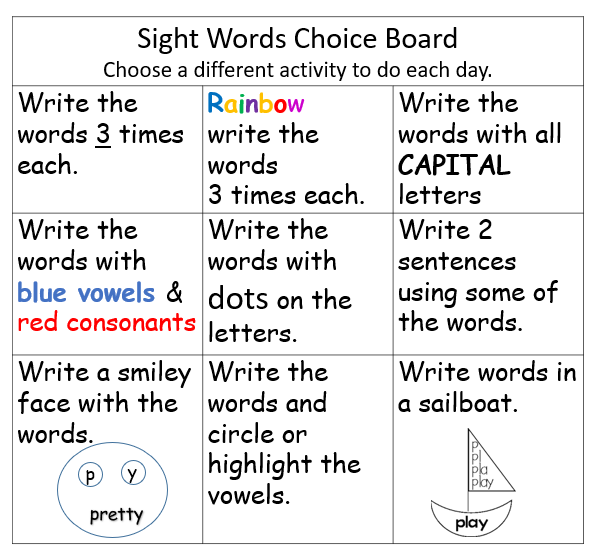 WEEKLY SIGHT WORD TEST ON FRIDAYS
- - - - - - - - - - - - - - - - - - - - - - - - - - - - - - - - - - - - - - - - - - - - - - - - - - - - - - - - - - - - - - - - - 
Weekly Sight Word List
August 31st - September 4th : we, run, a, can, play, I
September 6th - 10th: like, cat, to, and, dog
September 13th - 17th: the, not, you, do, want
September 20st - 24th: all, here, big, is, little
September 27th - October 1st: she, with, are, he, funny
Have Fun!
The Team at Educator Pages